Worried about illegal / fraudulent transactions on your precious land / property?
It goes without saying that land is precious for everybody to be it an individual or a business person such as a builder or a broker. In today's times, it is essential that everyone keeps a close and regular tab on transactions/deals happening on one's land/property to ensure that nothing fraudulent happens outside one's knowledge.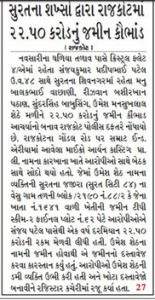 A recent article published in Sandesh Newspaper of Ahmedabad Edition on 8th December 2019 indicates that land mafias are constantly looking to find ways to grab land through fraudulent means.
Why people keep failing on taking a track of their properties/lands on a regular basis
Lack of awareness on technicalities land/property procedure
How to access Govt. platform to track down
How to take action measurable action and what medium do people need to choose?
It must also be baffling to common people when they see in the article that frauds can happen across the state no matter where your land/property and the place that you reside. There are even cases wherein an individual has physical possession of his land/property but frauds can happen on Government platform as well by making unauthorized changes in property documents.
Jahernotice.com has a solution to all the serious problems mentioned above. We can help you solve all your property/land related queries without any hassle! Jahernotice.com, a unique and one-stop solution for all your real estate needs, provides complete protection to your land/property as shown below:
Get an instant alert on transactions happening on a public platform on your land/property – Track title clear notices, land acquisition notices issued by Govt., Town Planning related notices issued by Govt. and Auction Notices issued through Banks/Financial Institutions)
Get a monthly alert on changes occurring in your property document (7/12) on government platform (change in ownership, kachi nondh, paki nondh, boja entries, dastavej or banakhat entries, etc.)
Jahernotice.com has a huge client base of more than 10,000 registered users across the State of Gujarat with clientele ranging from topmost builders, brokers, lawyers, individual property owners, investors and high net worth individuals.
So don't wait for something fraudulent to happen on your land/property!! Join Jahernotice.com's family and protect your valuable land/property!!
Call / WhatsApp to Know More: +91 80003 36677